Shallow Deep Hand Pumps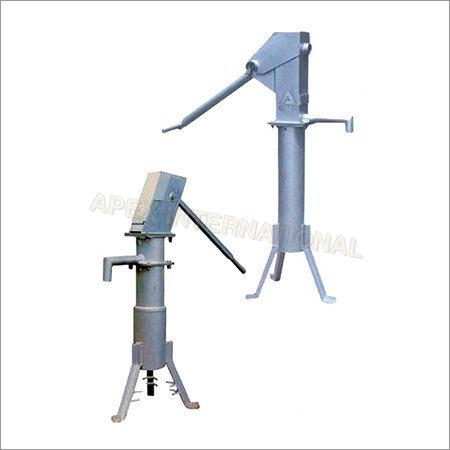 Shallow Deep Hand Pumps
Product Description
We take immense pleasure in introducing ourselves as an eminent manufacturer of a dependable range of Hand Pumps. With support of our workers, we are designing the range with perfection, which ultimately helps us in carving special niche for ourselves in the todays challenging market. The firm takes strict measures to offer a gamut which stands upto international quality standards. To serve the best range, we are developing it from raw material that are procured from the authentic companies of the market. We get tremendous support of our manufacturing cell in transforming our goals into the reality. This cell includes several sophisticated facilities and latest machinery that aid in making a flawless gamut. Our offered pumps come with 125 mm stroke length of the handle, these are well admired by the clients for providing excellent water discharge. The durable cylinder which is installed in it of 15 m to 50 m below-ground level also makes it well praised by the respectable clients. To make the gamut more reliable to you, we have updated it with coupler which suits pipes of several sizes, ranging from 65 mm or 50 mm NB Gl riser pipes. Further, the simple to use products get appreciation in the market for impressively reducing the stresses on the Gl riser pipe joint to the water tank. For standing upto the expectations of client, we make available the Hand Pumps with cylinder body made up of various material such as stainless steel, brass, cast iron and UPVC. We also provide cast iron and stainless steel built entire cylinders that are right to be used in the commercial as well as residential sectors.


Hand Pump Features:
To make the pumps rustproof, hot galvanized treatment is given to them.
Pumps have excellent strength due to having ground mechanism made from welded steel plates
The pump handles are equipped with durable chain & quadrant mechanism, which gives accurate alignment and ease in connecting rod
Comes with a handle bar, which features excellent mechanical advantage and has a design which impressively counter balance the weight as per the connecting rods & decline the hard efforts that otherwise required for the pumping
Low in maintenance and simple to operate pumps due to their unique pivot assembly (which includes handles of sealed ball bearings on the rustproof stainless steel axle)
When the cylinder is installed the 15 m to 45 m below-ground level, with support of its 125 mm stroke length handle, it discharges water in an excellent speed of 17 liters per minute per 40 strokes
These pumps are offered with the water tank assembly, which has durable coupler that perfectly suit 32 mm NB medium class UPVS pipers or galvanized iron (Gl) riser pipes
Standard version of the pumps come with the riser pipes of 32 mm NB Gl pipes but options of having them of DHPE, UPVC & FGP material is also available.
Provided to clients with cold drawn bright steel bar made connecting rods that are electro-galvanized against rust and come with threaded and couplers. Option of getting FGP and stainless steel rods is also available to witness better results
Pumps come with durable cast iron casing made cylinder with a polished gun metal plunger, brass liner & check valve components
Available range of pumps come with the several reliable seals like valve seals, pump buckets and cap seals that are produced from eco-friendly nitrile rubber. One can also have seals made from brass, stainless steel and UPVC material. With Universal Cylinder components, the cylinder of the pumps promises to remain adaptable for use
Can be used for windmills, shallow wells and motorized operation, when minor modifications are performed on it.

Hand Pump Technical Details:
| | |
| --- | --- |
| Brand | Apex |
| Max Flow Rate | 900 Litres/hr |
| Bore diamater | 125 mm |
| GI Riser Pipe | 65 mm |
| Pipe Length | 3 meter |
| Water level setting depth | 20*45 mtr |
| Connecting Rod Diameter | 12 mm |
| Connecting Rod Length | 3 meter |
| Connecting Rod Material | MS/SS |
We are manufacturer & Exporter of Shallow Deep Hand Pumps mainly in Angola Burkina Faso Burundi Cameroon Chad Congo Congo Ethiopia Ghana Guinea Kenya Liberia Madagascar Malawi Mal Mozambique Niger Nigeria Rwanda Senegal Sierra Leone Somalia South Africa South Sudan Sudan Tanzania Togo Uganda Zambia Sri lanka New Guinea Conakry Cameron etc
Contact for best quality Shallow Deep Hand Pumps with best affordable rate .
We export to Nigeria, Uganda, Netherlands and Burkina Faso.