Deepwell Hand Pump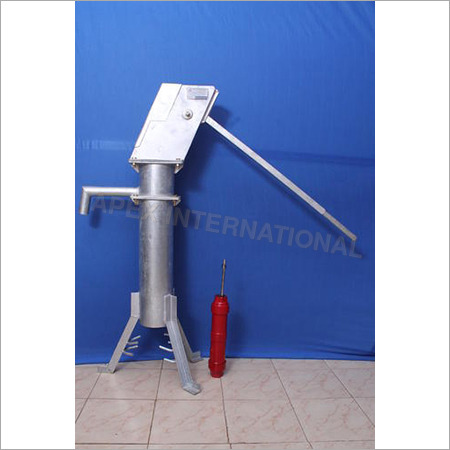 Deepwell Hand Pump
Product Description
This stainless steel or cast iron fabricated Deep Well Hand Pump is popularly used in villages and remote areas in India. It has 20mtr to 45 mtr operating depth and 100 mm bore diameter. This manual pump consists of 65 mm GI riser pipe, 12 mm connecting rod and cast iron or brass made sleeved assembly which is 50 mm in size. This ergonomically developed product is popular for its user friendly design, cost effectiveness, low installation charge, reliable and uninterrupted operation. Moreover, less effort is needed to control this pump. In fact, it works as ideal backup solution for submersible well pump. We are a successful manufacturer and exporter of Deepwell Hand Operated Pump.
Deepwell Hand Pump Advantages:
1) Mechanism of this system depends on the principle of pressure theory.
2) It consists of valve, top and bottom plungers for uninterrupted operation.
3) Automatic closing of valves to avoid reverse flow of water
4) Simple installation method
Deepwell Hand Operated Pump Technical Details:
| | |
| --- | --- |
| Operating Depth | 20-45 mtr |
| Material | Cast Iron, Stainless Steel |
| Installation/After Sales Service | Provided |
| Brand | Apex |
| Connecting Rod Diameter | 12 mm |
| Connecting Rod length | 3 mtr |
| GI Riser Pipe | 65 mm NB 3 meter |
| Minimum ID of bore | 100 mm |
| Assembly | 50 mm Dia cast iron brass sleeved Assembly |
We export to Nigeria, Uganda, Netherlands and Burkina Faso.
We are manufacturer & Exporter of Deep Well Hand Pump mainly in Angola Burkina Faso Burundi Cameroon Chad Congo Congo Ethiopia Ghana Guinea Kenya Liberia Madagascar Malawi Mal Mozambique Niger Nigeria Rwanda Senegal Sierra Leone Somalia South Africa South Sudan Sudan Tanzania Togo Uganda Zambia Sri lanka New Guinea Conakry Cameron etc
Contact for best quality Deep Well Hand Pump with best affordable rate .