Afridev Deep Well Hand Pump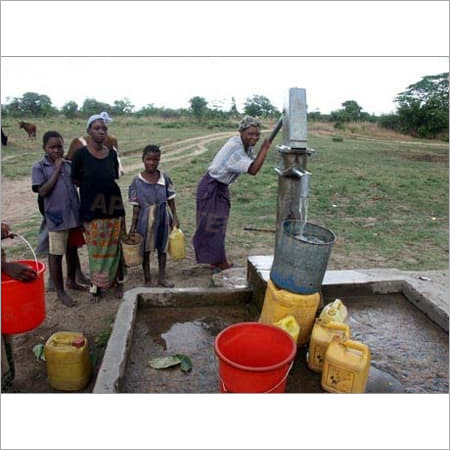 Afridev Deep Well Hand Pump
Product Description
With sincere efforts and quality devoted business approach, we are working with diligence in providing a quality examined range of Afridev Deep Well Hand Pump. This special purpose hand pump is known for hassle free conveyance of underground water for daily use applications. Admired for its user-friendly and smooth operations, the offered pump is manufactured under experienced professionals guidance. Also, checked by quality experts on several aspects, the provided Afridev Deep Well Hand Pump can be purchased at economic prices from us.

Owing to rich industrial experience, the company has been designing modern and heavy-duty Afridev Deep Well Hand Pumps reckoned in the market for high strength and durability. These pumps are designed using advanced technologies and spares that guarantees long service life. They are available in a variety of specifications, sizes and dimensions to meet the specific requirements of the clients. Afridev Deep Well Hand Pumps, offered here, are widely appreciated in the market for easy installation, maximum output and minimum maintenance.

These pumps are designed to suit incorporate foot valve assemblies as well as gun metal monolithic plunger. They boast unmatched quality in performance, design and construction. With stainless steel body, these pumps guarantee prevention from abrasion, rust and wear. They can efficiently work in adverse weather conditions with 3 different pedestal designs including square flanged, three legged pedestal with anchor assembly and Skat -4. They are designed from Seal, Cup U-Seal, bobbins, 'O' Rings of Nitrile Rubber as well as Stainless Steel Plunger Rod.
They are very easy to install with light weight and compact designs. With the aid of skilled and talented engineers, we have been serving different requirements of the patrons efficiently. These pumps are also tested using high-end machines to provide the clients with error-free designs.
We are manufacturer & Exporter of Afridev Deep Well Hand Pump mainly in Angola Burkina Faso Burundi Cameroon Chad Congo Congo Ethiopia Ghana Guinea Kenya Liberia Madagascar Malawi Mal Mozambique Niger Nigeria Rwanda Senegal Sierra Leone Somalia South Africa South Sudan Sudan Tanzania Togo Uganda Zambia Sri lanka New Guinea Conakry Cameron etc
Contact for best quality Afridev Deep Well Hand Pump with best affordable rate .
Afridev Deep Well Hand Pumps Key points
Hassle free operations
Needs less maintenance
Strong and weatherproof enclosure
Long life


Afridev Deep Well Hand Pump India Mark III (VLOM 65) :

Pump Type : India Mark III Deep Well pump as per Bureau of Indian Standard Specifications with 63.5mm dia cast iron brass sleeved open top cylinder assembly.
Recommended for water level setting depth (metres) :20*45
Minimum ID of bore (milimetre): 125
Approximate Discharge (Litres/Hour) : 900
GI Riser Pipe = 65 mm NB * 3 meter length
MS/SS Connecting Rod Diameter = 12mm * 3 meter length


Product Details:

| | |
| --- | --- |
| Water Level Setting Depth | Up to 45 Meter |
| Inner Bore Diameter | 100 mm |
| Discharge | 900 - 1200 Litres/Hour |
| UPVC Riser Pipe Length | 3 mtr |
| Connecting Rod Diameter | 10 mm |
| Stroke Length | 225 mm |
| Plunger Rod Material | Stainless Steel |
We export to Nigeria, Uganda, Netherlands and Burkina Faso.